Visit Origin With Us - Ywar Ngan, Myanmar
Have you ever wondered about the origins of Coffee? Join us in our upcoming trips for the unique experience of heading to origin during coffee harvest! We've designed our origin class to focus on immersing our students into the culture at the coffee mill and farm.
This is where coffee starts its journey and we've put together a 5 Day 4 Night immersion class (Introduction To Myanmar) for you to appreciate and learn about it. This year, in addition to the origin class, we'll also be offering SCA certifications that can be taken onsite. Where better to learn about coffee than at ground zero?
If you've been thinking about attaining your SCA certifications, here's your chance to take your brew, sensory or green coffee classes together with our Origin class.
Note: While there are no prerequisites, basic coffee knowledge or green coffee knowledge is recommended.
Read about our previous trips to Ywar Ngan.
Origins Classes in Myanmar are organised in coordination with Genius Shan Highlands Coffee
While in ywar Ngan
Obtain your SCA Certifications in brew, sensory or green coffee

Visit the farm to learn about coffee agriculture and processing

Get physical! Working with the farmers can be challenging, but also very fulfilling and eye opening

Have unique, hands on experiences with cherry picking, sorting, fermentation, drying and more

Cup coffee as well as inspect green coffee from the most recent harvest

Discover Myanmar and Ywar Ngan from a unique perspective unavailable anywhere else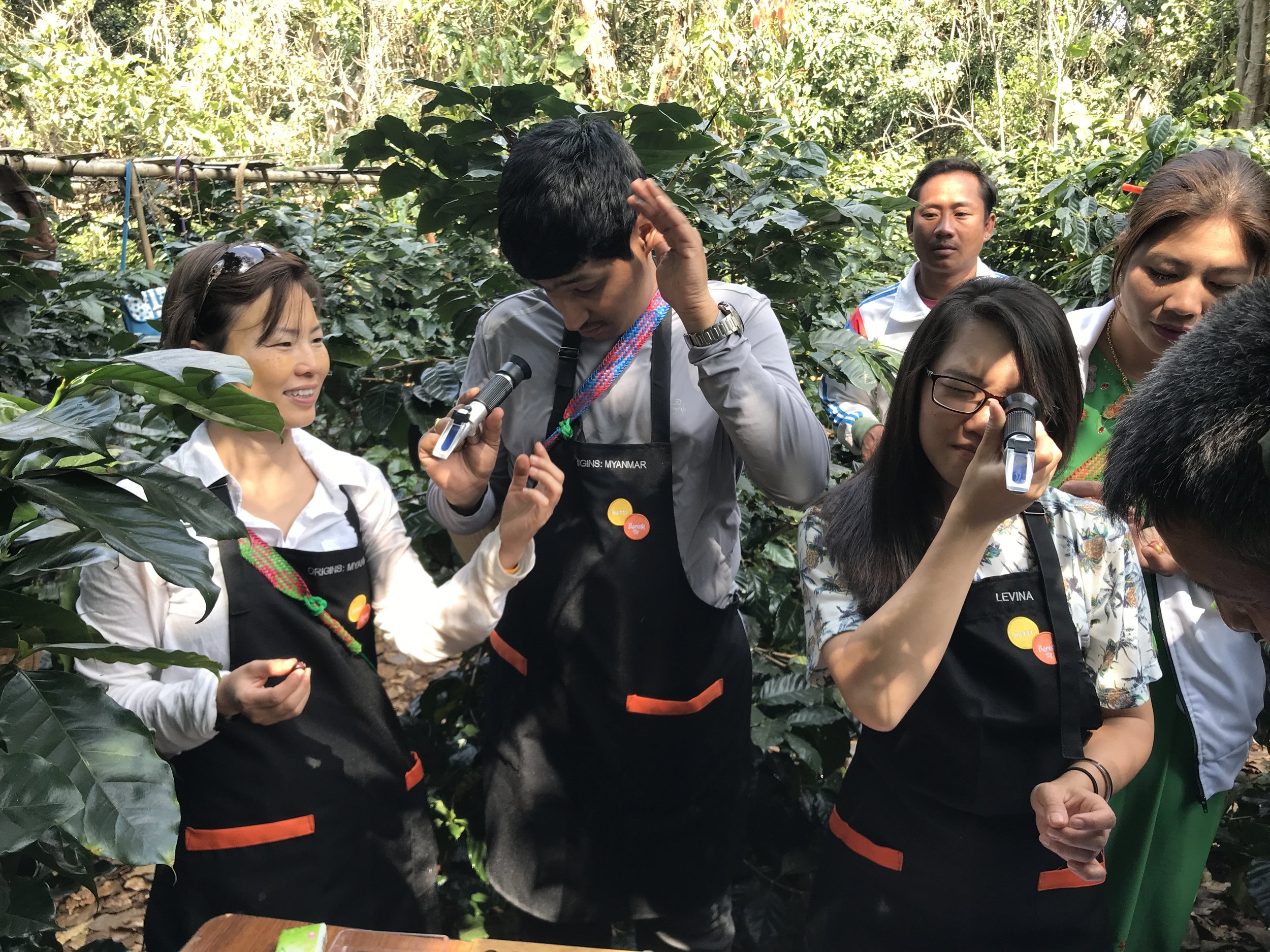 DETAILS OF UPCOMING TRIPS
NOTE - There is the option of attending the Full Trips or joining us for the Introduction to Myanmar portion of each trip.
TRIP 1
Full Trip - 15 - 22 Dec 2019 (8D/7N)
SCA Courses (15 - 17 Dec)

Introduction to Myanmar (18 -22 Dec)
TRIP 2
Full Trip - 12-19 Jan 2020 (8D/7N)
SCA Courses (12 -14 Jan)

Introduction to Myanmar (15 - 19 Jan)
Not inclusive of
Flight, accommodations and travel expense to Myanmar

Flight, accommodations and travel expenses from Yangon to Ywar Ngan

Accommodations in Yangon (if arriving earlier or staying later)

Ywar Ngan hotel incidentals
All prices include
4 or 7 nights lodging in Ywar Ngan

All ground transportation in Ywar Ngan

All meals in Ywar Ngan

SCA Exams and Certification
TERMS & CONDITIONS
Deposit of 50% required to reserve a slot. Students will be informed 6 weeks before the trip regarding confirmation.
Any cancellation / withdrawal must be submitted in writing via email 6 weeks before the trip. The deposit will be non-refundable if not submitted within this time frame.
QUESTIONS?
Drop us a note and we'll get back to you with more information
Also feel free to ask if you have any questions.
About Genius Shan Highlands Coffee
Genius Shan Highlands Coffee started processing and roasting coffee in late 2012. They have since opened a nursery for testing some of the finest varieties of Arabica from around the world and planted acres of hillside plantains. They have also opened processing and roasting facilities and a dry mill.
Genius Coffee's growing and production is based in Ywar Ngan Township in the Southern Shan State of Myanmar. Their roasting, distribution and cafe are located in Yangon. Genius is selling its coffee in retail markets, coffee shops, hotels, the airport and at soecuak events.
Central to its business model is an ethos of social responsibility. Genius honours its famers and their families by supporting community development projects in the villages that produce Genius Coffee. Its coffee growers are members of the Danu Hill Tribe, whose farmers work the same hills as their ancestors. Their knowledge of their lands and their partnership with Genius benefit their people by bringing much needed development to their villages. They also receive competitive compensation to provide for their families and ensure positive life outcomes for their children. Genius also contributes to support local education, healthcare and forestry efforts. Genius currently employs 30 full-time staff, and has organised over 100 of Southern Shan State's farmers to grow its coffee.
Genius shan Highlands Coffee is an award winning social enterprise. It is a proud member of several international coffee organisations, including the SCA, WCR, ACE and Myanmar Coffee Association. Genius operates with an emphasis on the 3E's of rural development: Evaluation, Education and Empowerment. It runs an an ongoing crowdfunding programme for our fans who want to own a small piece of the Genius mission, as well as personal investments in Genius franchises and cash investments, as they scale up production and growth of their coffee and related value added products.
As part of its commitment to its farmers, their villages and communities, Genius Shan Highlands Coffee contributes 10% of total revenues from its coffee related business.